Zapier
Do you want to integrate MergeMail with another tool? You can use MergeMail's Zapier integration to create customized, automatic workflows that connect MergeMail to over 1,500 different tools.
Using the MergeMail Zapier Integration
To use the MergeMail Zapier integration:
2. Add the MergeMail Zapier app
3. Click on "Make a Zap!"
When you start to make a Zap, you can choose how you want to connect MergeMail to another app. To do this, follow Zapier's guided workflow for connecting apps.
Examples
There are two ways in which you can connect the MergeMail Zapier app to other apps:
When something happens in MergeMail, make something happen in another app.
When something happens in another app, make something happen in MergeMail.
Here are some examples of workflows ("Zaps") you could create in Zapier:
When you send an email in MergeMail, update a contact record in HubSpot, Salesforce, or another CRM.
When you send a campaign in MergeMail, send a colleague an email, or send yourself a Slack message.
When someone clicks on one of the links in a MergeMail email you sent, send yourself an email, or update a Google Sheet.
When a contact is added as a new row in a Google Sheet, send a MergeMail email to that person.
When a someone submits a Google Form, send them a personalized MergeMail email.
The possibilities are endless! You can browse the apps supported by Zapier to see if the tool you want to connect with MergeMail is available.
Here's what a finished Zap looks like: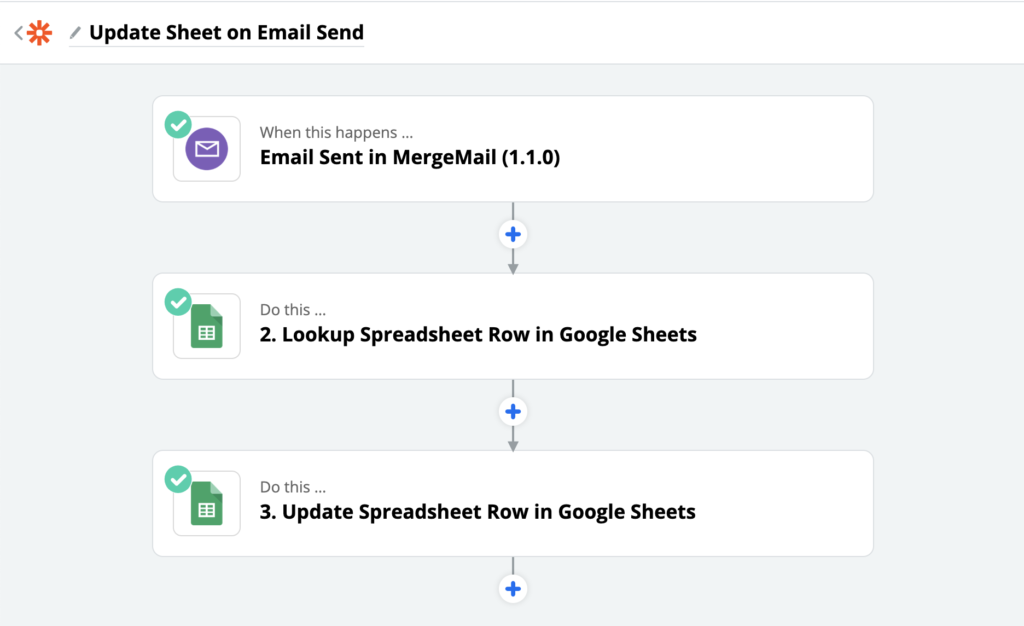 Here's a video showing how to create your first Zap on Zapier: